Dimensions Math for Schools
Dimensions Math® PK–5 is our flagship Singapore Math® curriculum. With its rigorous content and engaging visuals, it's easy to see why it's our most popular program.
Written by a team of Singapore math educators and experts with more than 100 years of combined classroom experience, Dimensions Math PK-5 provides a deep elementary math foundation. This is a refined, comprehensive series that meets the needs of today's students and educators. 
Textbooks
Textbook lessons build on prior knowledge and develop concepts in an approachable way. Textbooks A and B for each grade correspond to the two halves of the school year. 
1. Think: Stimulates interest in new concepts through a hands-on activity or problem. 
2. Learn: Presents definitions and fully explains new concepts. 
3. Do: Solidifies and deepens student understanding of concepts.
Shop
WORKBOOKS
Workbooks offer independent practice through careful progression of exercise variation. Workbooks A and B for each grade correspond to the two halves of the school year. 
4. Exercise: Provides additional problems in the workbook for students to master concepts. 
5. Practice: Provides teachers with opportunities for consolidation, remediation, and assessment. 
Shop
Tests
Tests help teachers systematically evaluate student progress. They align with the content of textbooks. Grades 1–5 have differentiated assessments: Test A focuses on key concepts and fundamental problem-solving skills, while Test B focuses on the application of analytical skills and heuristics. 
Shop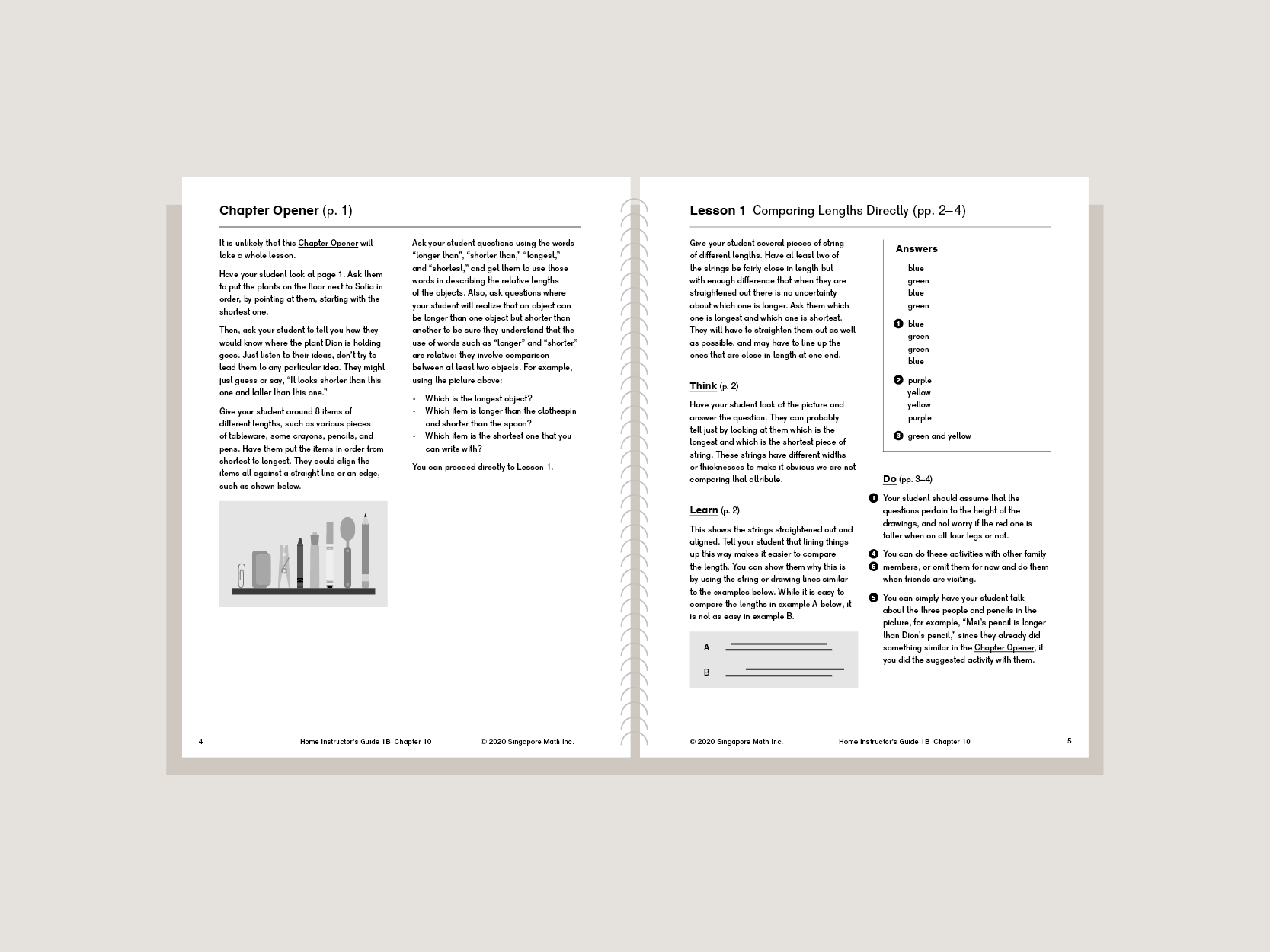 Home Instructor's Guides
Dimensions Math Home Instructor's Guides are an essential resource for teaching Dimensions Math in a home or one-on-one setting. The purpose of the Guides is to help educators understand concepts in the Dimensions Math curriculum and teach as effectively as possible. They include extensive background notes, lesson suggestions, tips, and activities. Home Instructor's Guides include answer keys for corresponding Dimensions Math Textbooks and Workbooks.
Shop
Teacher's Guides
Teacher's Guides are a comprehensive resource that help teachers understand the purpose of each lesson within the framework of the curriculum. They offer structure for thoughtfully guiding student inquiry, and include detailed teaching notes and activities to achieve lesson objectives. 
Shop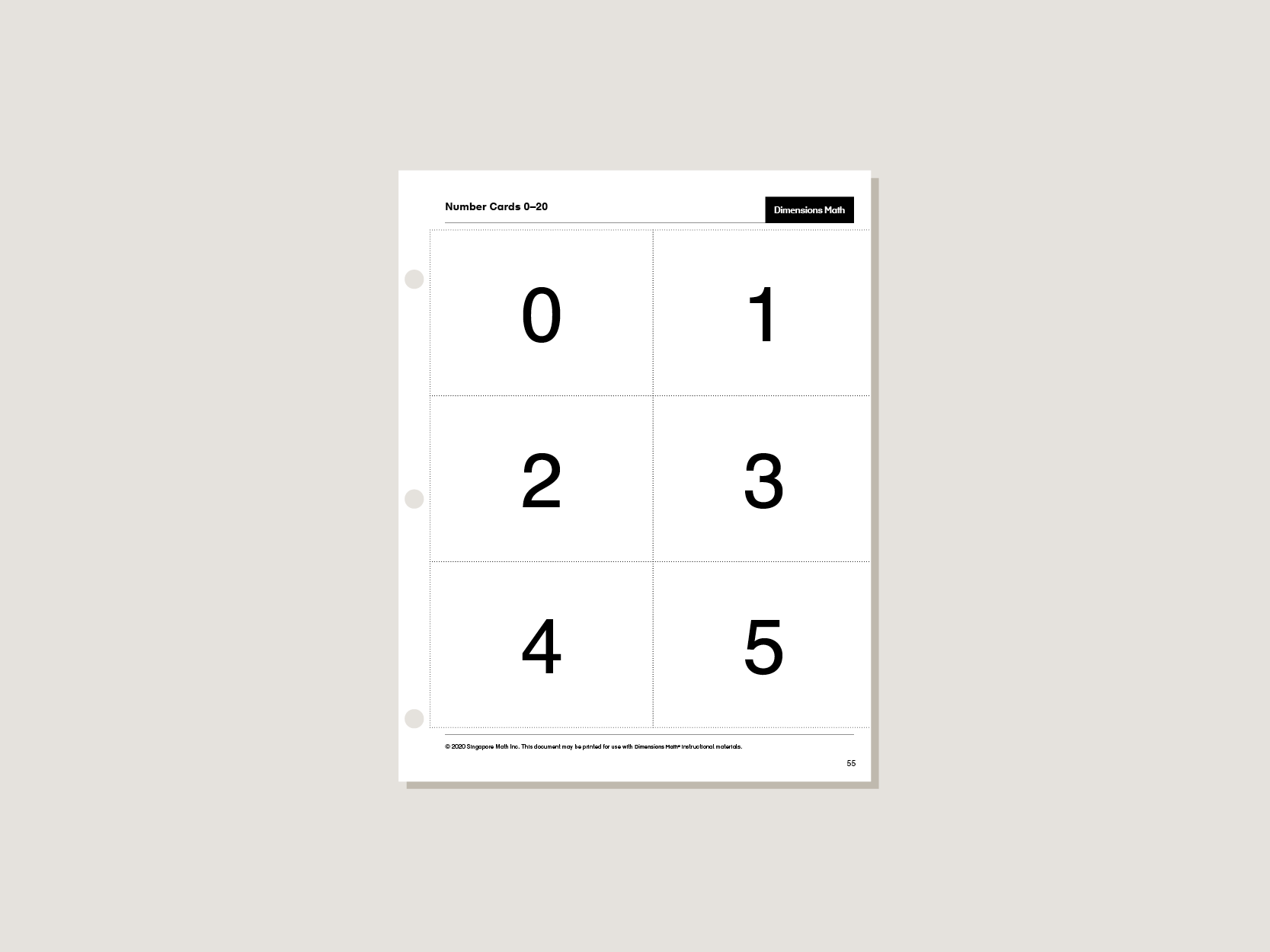 Home Instructor's Printouts
Dimensions Math Home Instructor's Printouts are the complete set of lesson and activity sheets needed for successful use of the Dimensions Math program at home. These printouts are referenced throughout the Home Instructor's Guide and used frequently in the program to demonstrate concepts and help hone skills. While they are available for free on our site, this ready-to-use resource means you can skip printing at home and keep printouts organized in one place. The set includes multiple copies of sheets where necessary.
Shop
Dimensions Math At Home™ Video Subscription
Looking for a little more support in teaching math? This video subscription brings a professional Singapore math teacher into your home classroom and provides in-depth instruction covering all the Dimensions Math material for an entire school year. Available for Grades 1–6.
Dimensions Math At Home™